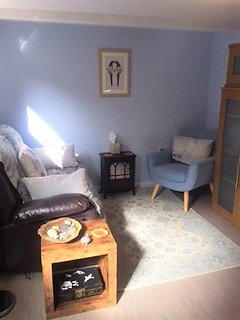 Contract, Fees and other Information
I am a registered accredited member of the BACP (British Association for Counselling and Psychotherapy, and I adhere to its ethical framework and am subject to its complaints procedure. If at any time you are unhappy with my service, you can contact the BACP on 0870 443 5252.
I also have personal indemnity and public liability insurance, and work in line with the ICO (Information Commissioners Office) guidelines when storing your records.

I have an up to date enhanced police safety check (DBS) and my work is supervised by a BACP approved supervisor.

I was trained and work in an integrated way, which means that Rogers' Core Conditions are at the heart of my practice, but I also incorporate Psychodynamic concepts, as I believe that the past will always influence our present, together with Acceptance and Commitment Therapy (ACT), and Mindfulness should this be appropriate to you.

A good therapeutic relationship is essential to achieving change, and I am committed to providing a safe, therapeutic environment for my clients.

CONFIDENTIALITY AND RECORDS

I work one to one, and your sessions will be kept confidential to you and I. My work has to be supervised, so for this to happen I will have to discuss your issues, and any resonance that they have for me with my supervisor, however you personally will not be identified.

If there is any need for me to communicate with any other professionals, then I will endeavour to seek your consent about what is to be discussed.

I keep brief notes after my sessions, which allow me to monitor my work, you will not be identified in these notes, and your personal contact details will be kept separately, so that you could not be identified. Both of these records will be stored securely.

There are rare occasions where I may be compelled to break confidentiality, they are:-


If you indicate to me that there is a risk of serious harm to yourself, or someone else.
If I am required to do so by a UK court of law.
If a third party accesses my records.
If I became aware of a potential breach of national security.

If I feel that you are at risk of causing serious harm to yourself or someone else, I would firstly discuss this with you and attempt to gain your consent to contact either your GP, or emergency services if appropriate. If you refused consent, then I would be forced to take action to ensure your safety.

FEES

For your first "getting to know you" session I offer a 60 minute session discounted to £20, payment to be made within 24 hours of booking the appointment, and to be paid directly into my bank account (details on contact), for couples I see each partner individually for an initial consultation for safeguarding reasons, and charge £20 for each partner. The slot will not be confirmed until payment has been received. If no payment is received the slot will be made available for someone else. Should you not attend that initial appointment without advising us that you have changed your mind at least 48 hours in advance, no refund will be made.

There is no obligation to book further sessions, but if you choose to, sessions are normally on a weekly basis, (fortnightly by arrangement) my standard fee for a 60 minute session for individuals is £45 and couples £70. If you are unable to afford the full payment, please contact me, and we can negotiate what payment you can afford, (Proof of income will be required). Concessionary rates are available for Students.

Payment will be made in advance, so when you book your next session, payment should be made at the end of the previous session if paying in cash, or if making payment by inter bank transfer, at least 48 hours before the next session.

Cancellations should be at least 48 hours in advance (unless in an emergency, such as illness or bad weather), if you cancel after this, or you do not attend, then full payment will be taken, and payment for the next session will need to be made in advance of that session.

You are of course able to cease counselling at any time irrespective of whether you indicate a time scale at our initial meeting.

In the event of me not being able to provide your session due to illness for example, I will endeavour to contact you as soon as possible, and offer you an alternative time.

Payment Methods

Cash
Direct payment into my Bank Account (Details will be given when booking the initial consultation0

Please note that if you attend a session under the influence of alcohol or recreational drugs, I will be unable to see you, and you will forfeit your fee for that session.

Other Information

Weekday and evening appointments are available.

How to contact me

You can contact me by telephone on 07847 713892, if I am unable to take the call, please leave a voicemail and leave your name and the best time for me to contact you, alternatively send me a text message on the number above giving me the same information,

You can email me with the same information and a preference as to how you would like me to contact you.

My contactable hours are generally 9am to 9pm Monday to Friday, and if your message is during those hours I will endeavour to get back to you within 24 hours. At the weekend and if I am on holiday it may be a little longer, but I will endeavour to reply to you as soon as possible.